Cases are considered for getting permanent residence card in Vietnam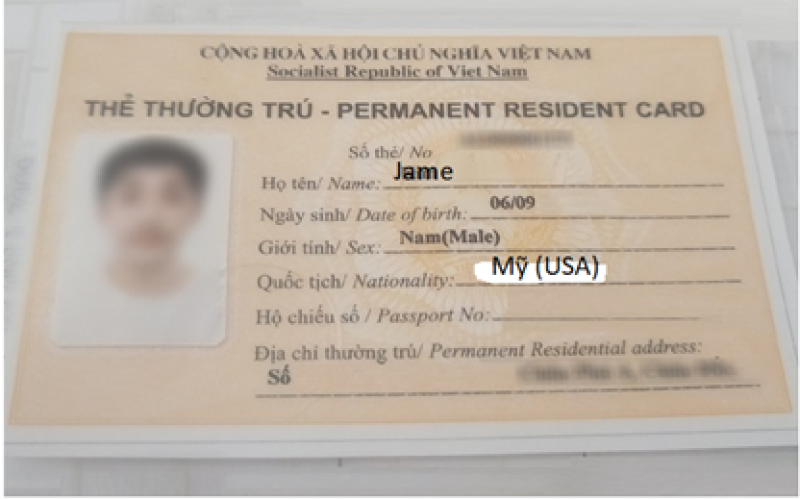 Cases are considered for getting permanent residence card in Vietnam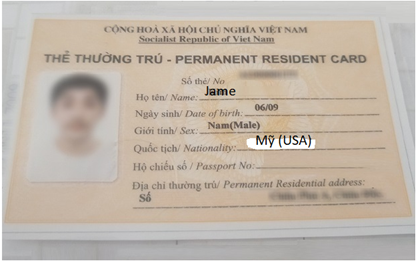 Issue: I am American, I have stayed and worked in Vietnam for 3 years. I took pleasured in living Vietnam, and I desire to become Vietnamese citizen. However, I do not know how to get permanent residence card, I am here to asking for this problem, many thanks for replying!
Dear Sir/Madam, it was our pleasures receiving and responding your problem, Nghiep Thanh Law Co.Ltd gives you some advices below:
Because of lack of your personal infomations, we, first step, review two criterias to be granted a Vietnam's permanent residence card for foreigners as follows:
Criteria 1: You are in case that considered for permanent residence cards[1]
There are 4 valued cases:
Foreigners who have contributed to the development and protection of Vietnam are awared medals or honorary title by Vietnam's goverment;
Foreigners who are scientists or experts temporarily residing in Vietnam;
Foreigners are sponsored by their parents, spouse, or child that is a Vietnamese citizen permanently residing in Vietnam;
Any foreigner without nationality who has temporarily residing in Vietnam since 2000 or earlier.
Criteria 2: You satify conditions to consider for permanent residence permission[2]
Firstly, having legitimate residence;
Second, having stable incomes to maitain a decent standard of living in Vietnam.
Bạn cần tư vấn dịch vụ này!
Significance:
Case (2) must be offered by Ministers, Heads of ministerial agencies or Govermental agencies in corresponding fields.
Case (3) must be had total time that temporarily residing for as least 3 years (since submiting application of permanent residence form) in Vietnam, based on entry and exit visa borne at the checkpoint.
Reference links:
Permanent residence application documents
Procedure to get Vietnam permanent residence card
Some advantages for permanent living foreigners in Vietnam
Contents above give advices about "Cases are considered for getting permanent residence card"
Whether you appreciate our article, spread it to Community by clicking "Share" this post.
Nghiep Thanh Law Co.Ltd feels free to contact and looks forward to hearing your response.
Copywriter: Le Kim Bao Ngoc
Editor: Nguyen Minh Co
Admin: Thuan Lawyer
CONTACT INFO
NGHIEP THANH LAW CO., LTD
Address: 136, Street 1, Phuoc Kien Residential Area, Hamlet 5, Phuoc Kien Commune, Nha Be District, City. Ho Chi Minh.
Transaction office: Room 21A6, No. 12 Ton Dan, Ward 13, District 4, City. Ho Chi Minh.
Phone: +84.28 3941 3688 – Hotline: Mr.Co +84.98 499 6971
Email: co.nguyen@luatnghiepthanh.com or info@luatnghiepthanh.com
Website: https://tuvanluat.vn
[1] Article 39, Law on entry, exit, transit, and residence of foreigners in Vietnam 2014
[2] Article 40, Law on entry, exit, transit, and residence of foreigners in Vietnam 2014
Bạn cần tư vấn dịch vụ này!